The Crosstown Classic
Chicago Cubs and Chicago White Sox
Baseball Series Game Scores & Lineups & History
Game Info by BaseballHistorian.com

HOME | 2018 | 2017 | 2016 | 2015 | 2014 | 2013 | 2012 | 2011 | 2010 | 2009 | 2008 | 2007 | 2006 | 2005 | 2004
2003 | 2002 | 2001 | 2000 | 1999 | 1998 | 1997 | 1906 World Series
List of players who played for both Cubs and Sox | Cubs Broadcasters
| White Sox Broadcasters
| Let's Go, Go-Go White Sox Song
All Time Crosstown Classic Regular Season Totals:
Chicago White Sox: 61 Wins vs. Chicago Cubs: 60 Wins
(through games of 7/6/2019 - not including the 1906 world series games)
Crosstown Classic Fast Facts:
Runs Scored during the Crosstown Series: CUBS : 539 | WHITE SOX : 520 (thru 2018)
Fast Facts
Score
Location
Largest Lopsided Score
CWS 12-2, 6/24/2005
at U.S. Cellular Field
Largest shutout
CWS 7-0, 5/20/2006 & CHC 7-0, 5/27/2013
at U.S. Cellular Field
Most runs in a game
26, CHC 15-11, 7/2/2006
at Wrigley Field
First Cubs Complete Game Shutout
(Jeff Samardzija)
CHC 7-0, 5/27/2013
At U.S. Cellular Field
Craig Robinson (White Sox fan) message to Nick Offerman (Cubs fan):



The 2019 Crosstown Classic Schedule

Date
Location
Winning Team

Score

Losing Team

Score

6/18/19
Wrigley Field at 7:05 pm
White Sox

3

Cubs

1

W: Marshall, L: Strop, SV: Colome

Eloy Jimenez 2 run homer off of Pedro Strop is the difference in the game. The homer stings of course even more than a *normal* loss as the Cubs traded Jimenez to the White Sox. Kyle Schwarber leads off the bottom of the Cubs first inning with a home run, but that's all the Cubs could muster against Ivan Nova and his 6 plus ERA. Nova shuts down the Cubs through 5 innings with 4 hits. Sox bullpen comes through after that. It was a Bummer (2 IP) for the Cubs as they were Fry(d) (1/3 IP), and then Marshall(ed) away with 2/3 IP by the Sox hurlers. I don't believe I can pun Colome, so I'll just say he closed the game out with a solid 1 inning pitched.. Cole Hamels' effort of 7 innings of 6 hits, 8 K's, and 1 ER, get wasted. Next up...Sox phenom Lucas Giolito (10-1, 2.22 ERA) vs. veteran John Lester (5-5, 4.01 ERA).

6/19/19

Wrigley Field at 7:05 pm
Cubs

7

White Sox

3

W: Lester, L: Giolito

The Cubs scored just 1 run the night before, have been in a hitting slump as a team and go up against one of baseball's best pitcher's this season. So what's bound to happen in the second game of the Crosstown Classic? Scoring 4 runs in the bottom of the first with a grand salami by Willson Contreras of course! Willson hits another one against Giolito and David Bote joins in the homer happy fun leading the Cubs to victory. Jon Lester throws 114 pitches to get the win. Giolito had not allowed four earned runs in a start since mid early April of this year.

7/6/19
Guaranteed Rate Field at 6:15 pm

Cubs

6

White Sox

3

W: Lester, L: Giolito, SV: Kimbrel

The Cubs jump out to an early lead on a misplayed liner by Eloy Jimenez. The single to left by Kris Bryant drives home Baez after his double. No error on the play but a good LF should have caught it in our opinion. Jose Abreu picks up his teammate by singling home Yoan Moncada in the 3rd to tie the game. Schwarber bobbles the ball on the play, adding to his recent defensive slump, but the run would have scored anyway. In the top of the 5th, the cubs put on their walking shoes, or perhaps Giolito just tired out in the humidity, as Giolito walks three batters in a row to start the inning. Needless to say, that's never a good idea. Schwarber swings and pops one into LF, that drives in two runs. When Schwarber hit the ball he stood there looking all around, he even looked behind the plate thinking that he popped it up. When arriving at 2b, Schwarber smiles big, knowing that he's lucky he made it to 2b after not knowing where it went. A Baez double and a Rizzo single put the Cubs ahead at 6-1. The Cubs used to be a great fielding team when they won the World Series. Not so much anymore. Bote misplays a Charlie Tilson bouncer, and Yoan Moncada doubles, Tilson scores, and Moncada advances to 3b on a throwing error by Baez. Abreu grounds out to short, but Moncada scores. Cubs up 6-3 in the 7th. Jon Lester exits with 6 1/3 IP, 3R, but only 1ER. Cishek & Strop in relief. Craig Kimbrel comes on in the 9th... K, HBP, K, SB, W... and then ....Kimbrel throws one in the dirt, Abreu swings and the ball bounces back past Contreras. Abreu takes off for 1b ...but Contreras easily throws him out. Kimbrel strikes out the side for the save. Cubs win 6-3.

7/7/19
Guaranteed Rate Field at 1:10 pm


2019 Crosstown Classic Season Standings
Cubs

2

White Sox

1

Doesn't it always seem like this series sways one team in a direction for the rest of the season?
---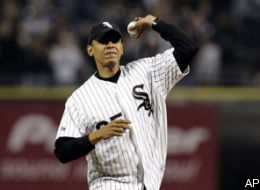 President Obama remarks about the Crosstown Classic
(May 29, 2013 - Chicago Tribune)
Earlier at the Hilton, the president also talked sports, saying his remarks would be brief because of the Blackhawks' Game 7 playoff contest at the United Center. He also said he expects the White Sox to win the Crosstown Classic.
"I'm not a Cubs hater, I'm just saying," Obama said. "I think the Sox will win."
The Sox, however, lost again to the Cubs on Wednesday.
-------------------------------------------------------
Famous Chicago White Sox Fans
Famous Chicago Cub Fans

Mayor Richard Daley, President Barack Obama, (the late) Bernie Mac, George Wendt, Rev. Jesse Jackson, Dennis DeYoung (Styx band), Richard Roeper, Roger Ebert, Mankind (wrestler), Steve Dahl, Mandy Patankin, Laurie Metcalf, Michael Flatley, Jerry Springer, Jenny McCarthy, Mayor Lori Lightfoot, Michael Jordan, and again... John Cusack

Do you know any others? send us an email to let us know.

Bill Murray, Nick Offerman, Jake Johnson, Jimmy Buffett, Stephen Colbert, Michelle Obama, Tom Bosley, Bonnie Hunt, Vince Vaughn, Christopher Walken, Joe Mantegna, Dan Migala, Eddie Vedder, Ronnie Woo-Woo, Rod Blagojevich, Jeff Garlin, Gary Sinese, Brett Eldredge, Steve Goodman, Jim Belushi and again... John Cusack.


Do you know any others? send us an email to let us know.

Barack Obama on being a White Sox fan

from Chicago Sun Times
August 25, 2008

We all knew Barack Obama is a White Sox fan, but the presumed Democratic presidential nominee took it a bit further in an interview with ESPN.

Obama joked about the stereotype of Cubs fans, who probably are tired of being described as partying people-watchers instead of serious baseball fans.

"You go to Wrigley Field, you have a beer, beautiful people up there," Obama said, according to transcripts released by ESPN. "People aren't watching the game. It's not serious. White Sox, that's baseball."


Eddie Vedder at Wrigley

Pearl Jam played at Wrigley in 2013, 2016, 2018
Crosstown Classic Game Scores
(from 1997 through today (and also 1906 World Series))
View Games by Decade:
2010 | 2011 | 2012 | 2013
2009 | 2008 | 2007 | 2006 | 2005 | 2004 | 2003 | 2002 | 2001 | 2000
1999 | 1998 | 1997
1906 World Series
Before interleague play in 1997, the White Sox and the Cubs often played in exhibition games. The White Sox and their South Side fans invade Wrigley and the North Siders travel via the Dan Ryan, Lake Shore Drive, or the "El" (the subway) via the Red Line to U.S. Cellular Field. Most of these exhibition games were filled with "call ups", those being minor league players as the teams did not wish to have their regular players injured in an exhibition game. Thusly, these games, although intense in the fans eyes, were merely entertainment.
Then in 1997, it finally counted. The first two years of these games (1997 & 1998), there were only 3 games for the entire season, with the home team alternating. Then in 1999, MLB introduced the current series of the games, in which there are 3 games at each park each year.
Although the teams had a similar record against each other in this series (they were tied going into 2009), there is nothing similar about either team in the eyes of their fans. With the Cubs having not won a World Series in over 100 years, and the White Sox finally having broken their long drought in 2005 (an 88 year wait), the "palehose" have an advantage in recent bragging rights with their World Series win.