The Crosstown Classic
Chicago Cubs and Chicago White Sox
Baseball Series Game Scores & Lineups & History
Game Info by BaseballHistorian.com

HOME | 2013 | | 2012 | 2011 | 2010 | 2009 | 2008 | 2007 | 2006 | 2005 | 2004 | 2003 | 2002 | 2001 | 2000
1999 | 1998 | 1997 | 1906 World Series
List of players who played for both Cubs and Sox | Cubs Broadcasters
| White Sox Broadcasters
| Let's Go, Go-Go White Sox Song
All Time Crosstown Classic Regular Season Totals:
Chicago White Sox: 56 Wins vs. Chicago Cubs: 48 Wins
(through games of 2014 - not including the 1906 world series games)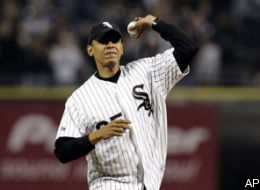 --------------------------------------
President Obama remarks about the Crosstown Classic
(May 29, 2013 - Chicago Tribune)
Earlier at the Hilton, the president also talked sports, saying his remarks would be brief because of the Blackhawks' Game 7 playoff contest at the United Center. He also said he expects the White Sox to win the Crosstown Classic.
"I'm not a Cubs hater, I'm just saying," Obama said. "I think the Sox will win."
The Sox, however, lost again to the Cubs on Wednesday.
-------------------------------------------------------
Crosstown Classic Fast Facts:
Fast Facts
Score
Location
Largest Lopsided Score
CWS 12-2, 6/24/2005
at U.S. Cellular Field
Largest shutout
CWS 7-0, 5/20/2006 & CHC 7-0, 5/27/2013
at U.S. Cellular Field
Most runs in a game
26, CHC 15-11, 7/2/2006
at Wrigley Field
First Cubs Complete Game Shutout
(Jeff Samardzija)
CHC 7-0, 5/27/2013
At U.S. Cellular Field
In their infinite wisdom, Major League Baseball decides to reduce the Crosstown Classic to four games each year from six games, so the teams can split the series instead of reducing it to five games perhaps thereby making sure that one team will always be declared a winner of the Crosstown Classic. The Cubs need to sweep both this year, and next year's games to even up the all-time record.
-----------------------------------------------------------
Going into the Chi-town series, the White Sox were climbing back to .500 by sweeping the Miami Marlins. They were only 4 games back of the Detroit Tigers and looked to keep their momentum going at home against the flailing Cubs who stopped a six game losing streak by rallying to beat the Red 5-4 in 10 innings after Johnny Cueto decides to do the "stupid" and throw at David DeJesus supposedly for taking too much time to get into the batter's box in the first inning. The Cubs had been completely dead before then and perhaps that little act of idiocy gave them the spark they needed.
The Cubs outscored the White Sox 32-8 during the 4 game sweep.
Craig Robinson (White Sox fan) message to Nick Offerman (Cubs fan):

The 2013 Crosstown Classic Schedule

Date
Location
Winning Team

Score

Losing Team

Score

5/27/2013
U.S. Cellular Field
6:10 PM
Cubs

7

White Sox

0

Jeff Samardzija (2-6, 3.25 ERA) vs. Jose Quintana (3-1, 3.48 ERA)
TV: WGN, CSN

Jeff Samardzija goes the distance and gives up a career low of 2 hits to win his 3rd game of the year. The "shark" also strikes out 8 and only walks two, and puts an end to the White Sox streak and gives the Cubs a 2 game winning streak after losing six straight.

The White Sox have spotty defense at times and Julio Borbon hits his first HR of the year a 2 run shot that put the Cubs up 3-0. The Cubs top 4 spots in the lineup bang out all 9 of their hits. Jose Quintana takes the loss and moves to 3-2, giving up 4ER in 6 IP.

Next up for the Cubs, Sox Ace Chris Sale.

Pitches-strikes: Samardzija 108-65, Quintana 95-56, Jones, N 21-16, Omogrosso 29-18.
Groundouts-flyouts: Samardzija 8-6, Quintana 5-4, Jones, N 0-1, Omogrosso 1-2.
Batters faced: Samardzija 30, Quintana 25, Jones, N 7, Omogrosso 7.
Umpires: HP: Scott Barry. 1B: Tim Welke. 2B: Clint Fagan. 3B: Mike Everitt.
Weather: 57 degrees, cloudy.
Wind: 8 mph, L to R.
T: 2:25.
Att: 30,631.

Game 2: 7/8/13
(make up game that was rained out on 5/28/13)

U.S. Cellular Field
7:10 PM

Edwin Jackson (1-7, 6.11) vs. Chris Sale (5-2, 2.53)
TV: CSN, WCIU

Wellington Castillo hits a 2 run HR knocking in Scott Hairston to put the Cubs up 2-0 in the 2nd.

Rain delay in the bottom of the 3rd, Cubs still up 2-0.

GAME #2 CALLED DUE TO POURING RAIN - MAKEUP DATE - July 8th at 7:10 pm.

5/29/2013
Wrigley Field
1:20 PM
Cubs

9

White Sox

3

Dioner Navarro Day at Wrigley - Switching hitting catcher hits 3 HR's and knocks in 6.

5/30/2013
Wrigley Field
1:20 PM
Cubs

8

White Sox

3

The winds of change continued to push the Cubs back towards .500 in the Crosstown Classic all time history, now at 49 for the White Sox and 44 for the Cubs. Travis Wood continues to shine both on the mound and in the batter's box, this time hitting his 2nd HR of the year - a Grand Slam in fact off of Jake Peavy even. Homers abound for the Cubs in this typical hot and humid windblown game, with dingers from Travis Wood, Nate Schierholtz, and Luis Valbuena.

Jake Peavy gets hit pretty hard by giving up 8 hits in 4 innings, surrendering 6 runs while walking none (normally a great sign when it's that windy) and striking out 3. Konerko and De Aza both picked up two hits, while Konerko knocked in two of the Sox's runs.

Cubs' hot hitters of the day were Wellington Castillo (2-4), Luis Valbuena (3-4, HR), Nate Schierholtz (HR), and Travis Wood (2-4, HR, 4 RBI - and hitting .292 for the year).

I'm sure Dioner Navarro was licking his chops when he saw the wind blowing the way it was, and with him hitting 3 HR's yesterday.

Wind was blowing out at 24 MPH.

Game 4: 7/9/2013
(make up game that was rained out on 5/28/13)

U.S. Cellular Field
7:10 PM
Cubs

8

White Sox

2

With the game tied at 2 through seven innings the Cubs bust the game open in the top of the 8th against the Sox's bullpen hurlers of Thornton and Jones with four singles, two walks and a double. Luis Valbuena, a last minute replacement for Wellington Castillo who was 'under the weather' (good description for a game that was once again delayed by rain), knocked in three runs. Alfonso Soriano continued his hot hitting going 3-4, with another HR, and Matt Garza displayed all he has to offer to the scouts who were there to see his 'stuff' in case the Cubs decide to trade him. Garza went 7IP, giving up 5 hits, 2 runs (1 earned) and striking out 6.

Hector Santiago of the Sox throws 5 1/3, giving up 5 hits, 2ER, walks 2 and strikes out 3. Rookie catcher Josh Phegley becomes the Sox player to hit a HR in the first pitch he saw at U.S. Cellular Field, his 2nd dinger in as many games.

2013 Crosstown Classic Season Standings
Cubs

4

White Sox

0

The Cubs outscored the White Sox 32-8 during the 4 game sweep.

Doesn't it always seem like this series sways one team in a direction for the rest of the season?
---
Cubs and Sox announce the awarding of the BP Crosstown Cup starting in 2010. The Cup will be awarded to the team that
wins the majority of the games (normally 6 but with rain-outs, etc.), and in the case of a tie, the cup will go to the team that
wins the last game.
Famous Chicago White Sox Fans
Famous Chicago Cub Fans

Mayor Richard Daley, President Barack Obama, (the late) Bernie Mac, George Wendt, Rev. Jesse Jackson, Dennis DeYoung (Styx band), Richard Roeper, Roger Ebert, Mankind (wrestler), Steve Dahl, Mandy Patankin, Laurie Metcalf, Michael Flatley, Jerry Springer, Jenny McCarthy, Michael Jordan, and again... John Cusack

Do you know any others? send us an email to let us know.

Bill Murray, Jimmy Buffet, Michelle Obama, Tom Bosley, Bonnie Hunt, Vince Vaughn, Christopher Walken, Joe Mantegna, Dan Migala, Eddie Vedder, Rod Blagojevich, Jeff Garlin, Gary Sinese, Steve Goodman, Jim Belushi and again... John Cusack.


Do you know any others? send us an email to let us know.

Barack Obama on being a White Sox fan

from Chicago Sun Times
August 25, 2008

We all knew Barack Obama is a White Sox fan, but the presumed Democratic presidential nominee took it a bit further in an interview with ESPN.

Obama joked about the stereotype of Cubs fans, who probably are tired of being described as partying people-watchers instead of serious baseball fans.

"You go to Wrigley Field, you have a beer, beautiful people up there," Obama said, according to transcripts released by ESPN. "People aren't watching the game. It's not serious. White Sox, that's baseball."


Eddie Vedder at Wrigley

Pearl Jam to play at Wrigley in 2013
Crosstown Classic Game Scores
(from 1997 through today (and also 1906 World Series))
View Games by Decade:
2010 | 2011 | 2012 | 2013
2009 | 2008 | 2007 | 2006 | 2005 | 2004 | 2003 | 2002 | 2001 | 2000
1999 | 1998 | 1997
1906 World Series
Before interleague play in 1997, the White Sox and the Cubs often played in exhibition games. The White Sox and their South Side fans invade Wrigley and the North Siders travel via the Dan Ryan, Lake Shore Drive, or the "El" (the subway) via the Red Line to U.S. Cellular Field. Most of these exhibition games were filled with "call ups", those being minor league players as the teams did not wish to have their regular players injured in an exhibition game. Thusly, these games, although intense in the fans eyes, were merely entertainment.
Then in 1997, it finally counted. The first two years of these games (1997 & 1998), there were only 3 games for the entire season, with the home team alternating. Then in 1999, MLB introduced the current series of the games, in which there are 3 games at each park each year.
Although the teams had a similar record against each other in this series (they were tied going into 2009), there is nothing similar about either team in the eyes of their fans. With the Cubs having not won a World Series in over 100 years, and the White Sox finally having broken their long drought in 2005 (an 88 year wait), the "palehose" have an advantage in recent bragging rights with their World Series win.